PRODUCTS
The Poly Filter
The POLY-FILTER is for filtering and purifying both fresh and salt water aquariums. It is a formulation of a special patented material bonded to a synthetic matrix. By means of a unique proprietary process, the POLY-FILTER is made impervious to salt and is also organic loving to certain materials. It can absorb and adsorb contaminants and other toxic materials found in nature or added to fresh and salt water with or without fish and invertebrates. Medication added to fresh and salt water aquariums for treatment of diseased fish will automatically be removed by the POLY-FILTER after serving their intended purpose before the medication can produce a toxic effect on the fish.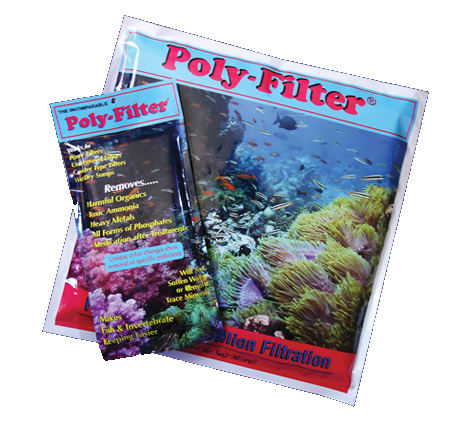 The POLY-FILTER is non-toxic and harmless to biological filtration because it allows a sufficient amount of ammonia to reach the biological filter in order to sustain the bacteria culture. The POLY-FILTER provides a supplemental means for removal of ammonia when the biological filter is unable to break down the excess ammonia and its concentration increases rapidly. Then the POLY-FILTER adsorbs the excess ammonia while the biological filter readjusts to higher ammonia input levels.
BECAUSE OF THIS UNIQUE FILTERING CHARACTERISTIC, THE POLY-FILTER ELIMINATES THE NEED AND EXPENSE OF CARBON OR ION EXCHANGE RESINS AND PROTEIN SKIMMERS.
Kold Ster-il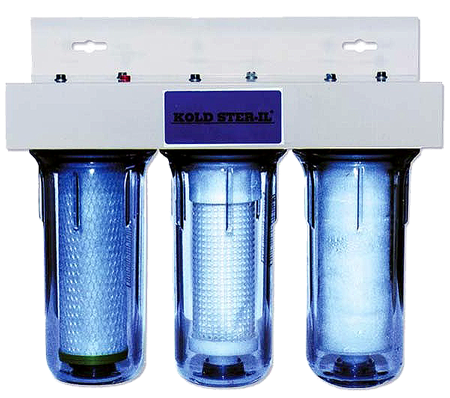 Kold Ster-il Water Filter uses ten inch canisters (clear), 3/4" Npt. Threaded fittings, flows 3.8 Gpm (14.3Lpm) for approximately 5,000 gallons (18925 L.). The smaller system can provide lower lead, mercury, cadmium levels due to the addition, into the carbon cartridge, of a highly selective charged ceramic.

How good is your tapwater?
Our Kold Ster-il, Three Canister System, sorbs and restricts the following: Lead, Mercury, Cadmium, Copper , Iron, Zinc, Volatile Organic Chemicals (VOC), tannins, Proteins, Dissolved Organics, Chlorine, Pesticides/Insecticides, Metal Particulates, Algae, Fungus, Giardia, Cryptospordium, and E. coli Bacteria.

Water Flow Rate: 3.8 Gpm @ 40 psig

Materials of Construction: Canister—Polypropylene Top SANS Sump NSF, International Approved. Fin-L-Filter - UHMW Polyethylene End Caps w/ Acrylic & Polypropylene Tubes.

The Kold Ster-il System & Filter Media were tested under A.S.T.M.* & E.P.A. Methods of Analysis for Potable Water. The Fin-L-Filter molecular absorption discs meet all NSF, International criteria as a chemical sorbent media under Standards 42, 53, 53b, 61, 63. In addition, both disc sorbent medium and the entire apparatus were tested as to performance and claims in the UMDNJ Pharmacology–Toxicology Dept.

*American Society of Testing & Materials

Volumes: 11.01 & 11.02 Water Analysis.

Filter Media (Three Types of Filtration): Barrier Restriction, Adsorption, Absorption.

Kold Ster-il® System Provides Three Separate Methods of Filtration for your Health & Safety.

This unique Filtration System offers you and your family the following:
0.50 micron bonded carbon block also containing a molecular sieve. NSF Approved Last Stage.
Molecular Absorption Disc Media designed to absorb/adsorb heavy metals, volatile organic chemicals, dissolved organic matter, phosphates while flowing 4 gallons per minute.
Fin-L-Filter 0.20 Micron bag filter (U.S. Patent). This second stage filter barrier restricts algae, Giarida Cysts, Cryptosproidium, fungus and E. coli bacteria.Whole House Filtration: Kold Ster-il can provide a constant 4+ Gpm flow rate while meeting NSF quality standards 42, 53, 53b, 61, 63.
The Kold Ster-il System also includes schedule 80 PVC fittings, mounting bracket, filter wrench, silicon grease and schematic.

(1st) Molecular Absorption 30/Pk (1µS/cmH20)
(2nd) 0.20µm Filter Bag Fin-L-Filter
(3rd) 0.50µm Rated Carbon For VOC"S & Pesticides
Max. Pressure 90 psig. Max. Temp. 125°F Flow Rate 20 Gpm
NOTICE: KOLD-STER-IL® SYSTEM (3) FOR 7–14 GPM FLOW RATES

Canister #1
(Looking right to left) Fin-L-Filter® Model PMA-50 filled with 30 PMA-50 Discs (3.75" Diameter) processed in sterile 1.0µ/Siemens/cm (conductivity) water. This provides 20-35% more efficiency in sorbing heavy metals. This filter media passes NSF Standards 53, 53b, 63 for heavy metals filtration, V.O.C. reduction & extractables in potable water. Replace this filter medium approx. 150,000 gallons. Reorder Item No. PMA-1 30/Pk.

Canister #2
(Looking right to left) Fin-L-Filter® Model PSM-50 filled with a single 0.20µm filter bag (18.5" L x 4.0" W.) capable of providing a 99.9% (Three log) reduction in particulates. This filter bag will remove free floating bacteria + Giardia cysts & Cryptosporidium. Note: If this filter is to be used on microbiologically unsafe water it must be in conjunction with Chlorine or Chlorine dioxide in a 2.00–3.00 mg/L concentration for viral control and to prevent bacteria growing through filter medium. Replace this filter bag medium after approx. 150,000 gallons volume. Reorder Item No. PSM-1 0.20µm (absolute) Filter Bag.

Canister #3
(Looking right to left) Kold Ster-il Canister filled with a 4.62"W. x 20"L. filter cartridge containing polypropylene inner/outer wraps, bonded power activated carbon NSF Rated, polypropylene endcaps and Buna-N gaskets. This filter cartridge is rated for 150,000 gallons @7.0 gpm of greater than 2.0mg/L free available chlorine. In addition this filter will adsorb VOC`s & Pesticides. This cartridge is NSF Certified to trap Giardia & Cryptosporidium cysts via a 99.9% (absolute) 1.00 micron rating.
Reorder Item No. CBC-0.50Lg.

Important Operating Instructions:
Operate 60psig. Working pressure with 90psig. Absolute maximum pressure rating. Install an operating pressure reducing valve with a pressure gauge before Kold Ster-il® Filtration System. For VOC & Pesticide adsorption via carbon—do not operate above 85° F. Use silicon grease on all "o" Rings, Endcaps, Top of 0.20µm filter Bag. Use Chlorine or Chlorine dioxide (2.0–3.0mg/L) on microbiologically unsafe or unknown water sources for bacteria & viruses before Kold Ster-il® System filtration. Replace filter media after 150,000 gallons (approx.) or as indicated via water analysis under EPA Standards & Methods of Analysis.
SCHEMATIC and TECHNICAL INFORMATION